25+ Students Interested in Internships with Daily Work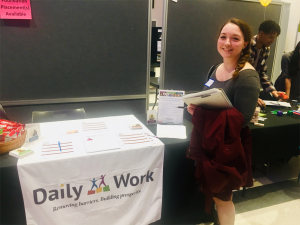 It may seem hard to believe, but Daily Work will likely select all of its Fall 2019 interns by the end of April. The process for attracting students is very competitive; more than 80 social service agencies attended the "Field Fair" on the University of Minnesota Campus to share information about internship opportunities for students. The "field fair" is essentially a mini-trade show for Master of Social Work students from the University of Minnesota (UMN) and Augsburg University to learn about internship (field) opportunities.
Eleven students from the fair expressed interest in interviewing for Daily Work's two remaining internship slots. Daily Work is also interviewing students from St. Catherine University and St. Thomas University, in addition to Augsburg and UMN. We have already accepted students from University of Wisconsin - Rivers Falls, St. Olaf College, and Metro State University. During March and April, we will interview 25 students seeking internships. We look forward to sharing the names of our new interns soon!
If you're interested in learning more about how Daily Work is preparing social work students for their careers as social workers and how that is an extension of our vision to create a community where everyone can work, grow, and contribute, please contact Julie Hoff, Daily Work executive director at (651) 204-3043.