New day. New venue. Same powerful stories.
Daily Work Steps to Success Luncheon 2019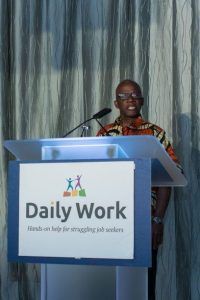 "I had survived through war. Moved across the world. Learned new skills. I had started a new life, but I was worried I would not be able to get a job and support my family," Baryogar Johnson, 2018 Steps Luncheon Speaker (pictured here).
Each year, Daily Work's Steps to Success Luncheon brings together members from all parts of our community; business and non-profit leaders, volunteers, service partners, and donors to learn more about Daily Work and experience first-hand testimonials about the impact of their support. Together, we are reducing economic disparities in our community by helping people increase their incomes through work.
The 2019 Steps Luncheon promises to be the best yet!
There is no cost to attend the event. Lunch is provided. Mailed invitations to previous attendees will arrive in early April.
300 N Mississippi River Blvd, St Paul, MN 55104