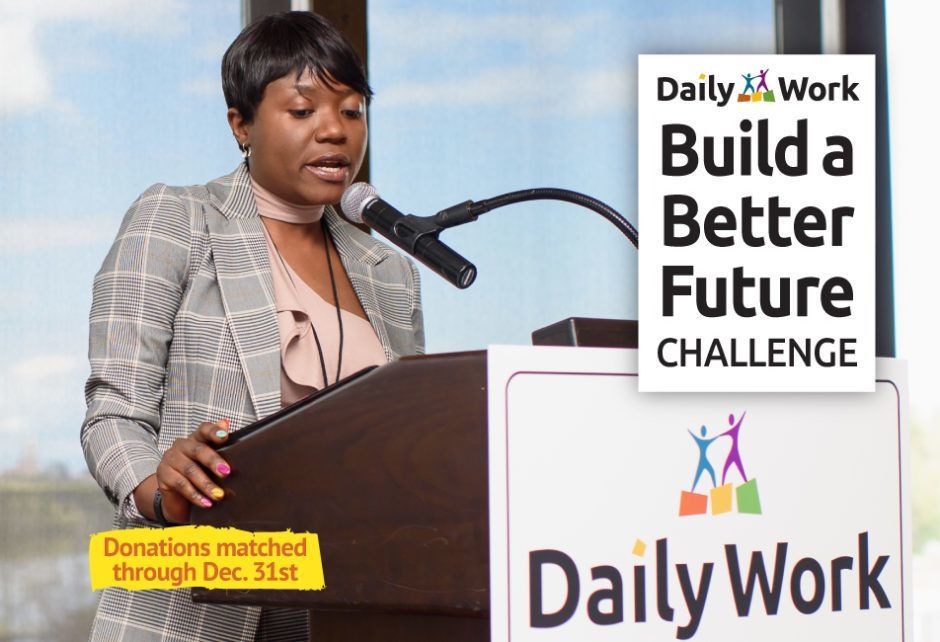 Marbel (pictured) immigrated to the U.S. eight years ago. In that short time, she earned both her bachelor and master degrees in social work and now works full-time helping people in crisis as a mental health social worker for Washington County. As a former Daily Work intern, Marbel credits Daily Work for helping her gain skills critical to her success.
"If you have any doubt as to whether Daily work is making a difference… then here you go. I am the difference!
Marbel speaking at Daily Work's 2019 Celebration Luncheon
I am confident that my husband and I can provide for our family, and still save for our children's college tuition. The skills I have are thanks to Daily Work in so many ways. They supported me and gave me the opportunity to learn by helping others like myself.
Supporting people like me, in their goals to find better jobs that can develop into careers, is the best way to move people out of crisis and become financially stable. This is what Daily Work does every day."
Share your love this season by matching Marbel's enthusiasm and determination. And thanks to our generous sponsors, all donations made to Daily Work by December 31 will be matched! So double your donation and give generously today!*
We're over halfway to our $25,000 goal!
Your donation now will directly support job seekers like Marbel!
DONATE SECURELY HERE!
P.S. We've raised $14,000 of $25,000 eligible for the match. Your support right now is vital!