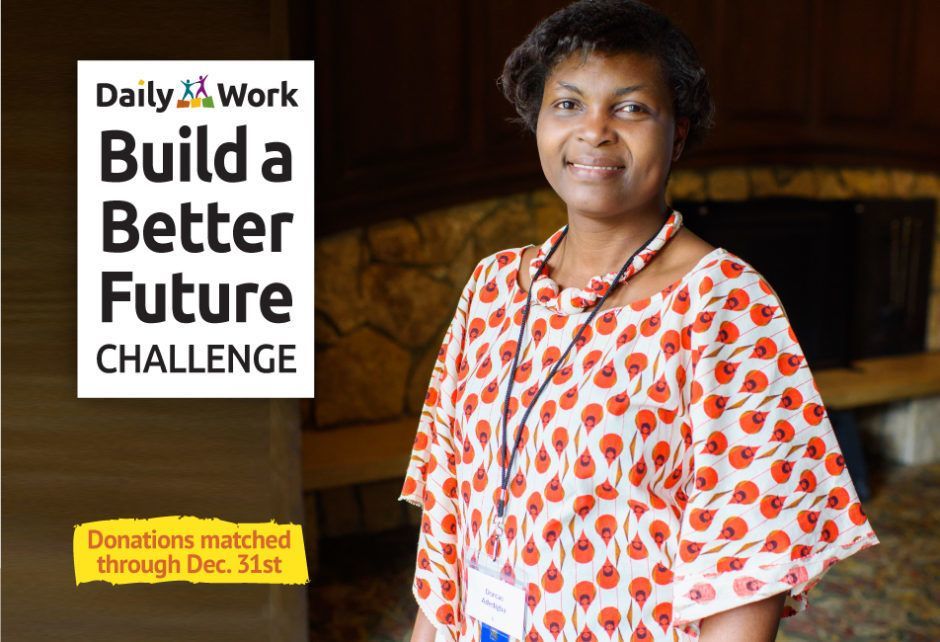 Dorcas and her children have dreams today that once were inconceivable. Dorcas and her three young children came to the United States seeking religious and political asylum. They endured months of hardship, unemployment, and living in shelters. But today, Dorcas counts Daily Work as part of her "new family". As a speaker at Daily Work's May Luncheon, Dorcas said:
Dorcas ready to speak at Daily Work's Annual Fundraiser in May
Daily Work has been a blessing to me. I love everyone I've met. They are problem solvers and they have been a wonderful resource to help me work through my fears and questions. All of you, along with St. Paul Reformation Church, are my new family.
My goal now is to become a Licensed Practical Nurse. My first step begins later this month on May 28, when I will take the class at St. Paul College to become a certified nursing assistant. After that I will get a job in the health care field and continue to pursue the education I need to become a licensed nurse.
One of my daughters wants to become a doctor. The other wants to be a teacher. My son…he wants to be everything…a pilot, a footballer, a pastor!
I want to be a leader to them. I want them to see me and know that they can be a solution to their generation.
Dorcas is now employed full-time as a Certified Nursing Assistant. Your generous gifts make it possible for people like Dorcas and her children to dream big and build a better future for our entire community.
We've raised 80 percent of our year-end goal. Before 2019 ends, join our generous challenge donors and make a donation that ensures all job seekers can build a better future through work.