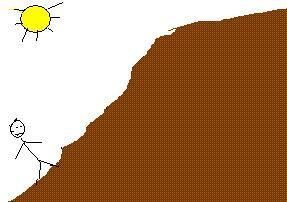 No matter who you are, we all experience some hardships in life. If life did not consist of a slope that moved in both positive and negative directions, it would be a flat line; it might even be boring! It is important to know that the negative slope is inevitable. Understanding and learning how to deal with the negative slopes in life are essential to moving the slope in a positive direction.
Small Steps
It is far from easy to solve all your problems. Sometimes, even solving one problem feels overwhelming, however, once problems begin to be tackled, stress starts to dissipate. Tackling issues one-by-one can help you feel a sense of accomplishment and improve your mood on a day-to-day basis. Of course, this won't happen immediately, but taking small steps can help you build your skills.
Asking For Help
Sometimes, the number of issues that come up in one's life is overwhelming. Asking for help from loved ones, friends, or trained medical professionals can make you feel like you are not alone. Sometimes asking for help is intimidating, scary, and even embarrassing. You might consider asking others for advice about who to talk to when there's time for a deeper discussion. With time, talking about your feelings and issues gets easier and you will feel more inclined to do it again!
Doing What Makes You Happy
Solving your problems and alleviating stress might not happen as fast as we'd like; yet there are ways to relieve stress and feel joy, such as doing activities that make you happy. These can be exercising, eating 'happy' foods, hanging out with friends, yoga, listening to music, or whatever genuinely puts a smile on your face. Revisiting feelings of happiness can be a great reminder to keep working towards feeling happier.
Why Is This Relevant?
At Daily Work, our job seekers face many challenges: not having a job, lacking shelter, financial issues, or even relationship issues. It is important when working with them to encourage a sense of motivation and hope. As a case manager, working on my own mental health has not been easy, but is something I try to work on as I deal with the complexities of my own life; being a college student, paying for my education, and managing personal relationships. I remind myself that I want to keep working on these issues because I want to get to a place with more harmony and happiness, a place we all deserve.
Important Resources
If you ever need someone to talk to someone or you feel like you might harm yourself, there are resources to help:
Suicide Hotline Prevention Number: http://www.suicide.org/  or call 800-273- TALK (8255)
Mental Health Minnesota: https://mentalhealthmn.org/ or call 800-862-1799
Crisis Text Line: Text "MN" to 741741
If you are in a life-threatening situation or need immediate help, please call 911 or go to your nearest emergency room.