Steps to Success is Coming May 23rd
---
Save the date for an evening of connection and community
Join us in-person (!) to support providing hope and expanding employment opportunities for immigrants and new arrivals. Mix, mingle, and be our partner in building better futures through work.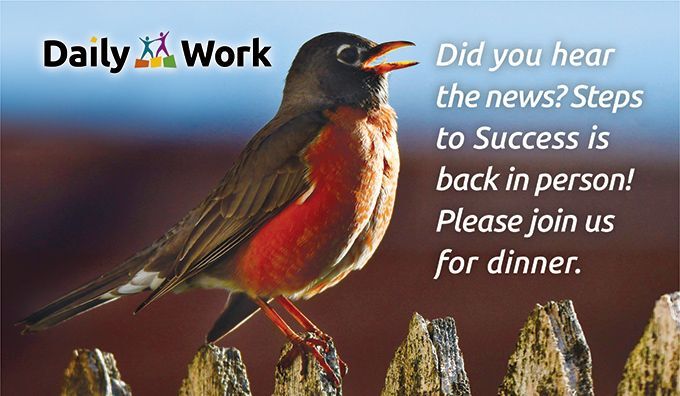 Date:  Tuesday, May 23, 2023
Time: 5:30–7:30 PM
Place: Westminster Presbyterian Church • 1200 Marquette Ave • Downtown Minneapolis
More: No cost to attend • Dinner will be served • Free, underground parking
Watch this space for more details. If you are on our mailing list, an invite will come; if you're not, you can sign up here.
We Met the $25,000 Match in 2022!
---
View a recording of last year's Steps to Success event
The May 17th program – hosted by actor, vocalist, and arts educator T. Mychael Rambo – was packed with heartfelt stories from our community that entertained, enlightened, and uplifted. The Happy Half-Hour pre-event featured live music performed by former interns, violinist Maya Lehmann and cellist Teiana Nakano, plus an informative slide presentation of Daily Work photos, facts, and questions/answers. 

Sincere appreciation to the Justin & Susan Kelly Foundation
They matched all gifts up to $2,500 through July 1, 2022 in support of Daily Work's Technology Essentials Core Initiative, aka TECI, which provides laptops, internet service, in-home setup, and ongoing coaching and training to job seekers seeking to improve their computer skills.
That match alone supplied 10 more job seekers with technology essentials.
Thanks to ALL of you – together we give people a leg up!
 
---
Daily Work helps job seekers see the power, possibility, and potential they have to turn each day into an opportunity to reach their greater yet to be!
~ T. Mychael Rambo
---
Shout out to our 2022 Steps to Success sponsors
Fredrikson & Byron has built a reputation as the firm "where law and business meet" by bringing business acumen and entrepreneurial thinking to their work with clients, and by operating as business advisors and strategic partners as well as legal counselors.

The purpose of Christ the King's Local Mission Partner Team (LMP) is to engage in God's Mission with the growing diversity of the Twin Cities. It is a program of St. Paul Area Synod that encourages building relationships with each other.