Want to Get Motivated?
Sometimes it can be tough getting motivated. We've all been there; up against the wall of 'which way to turn next'. Maybe you've lost steam on your job hunt-- applying for what seems like hundreds of jobs, but not getting any bites. Perhaps you're not sure which path to head down, what next steps to take. Maybe you're just not feeling very engaged or interested in making a change because you don't have the energy or time. We know the feeling!! Getting motivated can feel like an uphill battle, but with some nifty techniques, this process can actually be pretty fun!
Have you heard of motivational interviewing? Motivational interviewing techniques can help re-energize and emphasize your strengths, making next steps deliberate and more manageable. Here at Daily Work, motivational interviewing is one of many research-based strategies we use to help people achieve their employment goals.
Here is a brief overview of motivational interviewing (MI) and how it came about. Hopefully you'll find it helpful and maybe you'll even find a way to use this information in your own life, too!

William Miller, Ph.D., whose passion is the psychology of change, and Stephan Rollnick, clinical psychologist, are the MI masterminds. They describe MI as "a client-centered, directive method for enhancing intrinsic motivation to change by exploring and resolving ambivalence" (Miller & Rollnick, 2002, p.25). MI was developed in order to have more effective conversations around change, where we don't tell you what we think you should do. MI is meant to help increase your own sense of motivation and control over your decisions.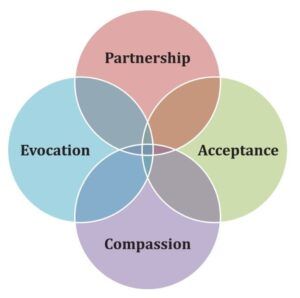 MI embodies collaboration (working together), evocation (encouraging expression), and autonomy support (you are in charge of your decisions and action steps). These concepts can be supported by:
Expressing empathy using reflective listening and open-ended questions.
Develop discrepancy--as we learn more about your values and what motivates you, we'll talk about how those values might differ from current behaviors, and together we can brainstorm what it would look like to have cohesive values and behaviors.
When we come up against resistance, we won't fight it, we'll roll with it! This process is about you making choices that work best for you, not for us. Our goal is to support you in being self-sufficient because real change occurs from within.

Using open-ended questions, reflective listening, and affirmations (Hohman, 2012, p.19).

Some examples of MI phrasing:
What would you like to see different in your current situation?
Do you mind if we talk a bit about…?
Are you interested in learning more about…?
How can I support you in working through…?
Tell me what is working well for you right now.
What I hear you saying is….I get the sense that…does that sound right to you?
At Daily Work, your self-sufficiency is the goal. You, the job seeker, know yourself, your experiences and what will work for you better than anyone else. We are your partners, and are here to walk with you through the barriers that might be getting in your way to your employment goals.
We'd love to hear from you!
What are some techniques you've found helpful when trying to motivate yourself?

What advice would you give to someone else struggling with motivation?

Are you already familiar with MI? If so, how have you used it?
Thanks for reading--we hope you find this information….motivating!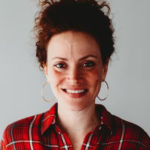 Marina Luger, Case Management Intern