The 2023 Steps to Success Benefit Has Happened
---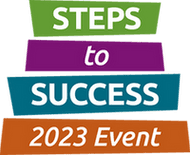 It was an inspiring evening of connection and community
Nearly 230 people gathered May 23rd at the beautiful Westminster Presbyterian Church Hall in downtown Minneapolis for Daily Work's annual benefit – to support providing hope and expanding employment opportunities for immigrants and new arrivals. Attendees enjoyed a fantastic, multi-cultural buffet, and we mixed, mingled, and partnered in building better futures through work. If you couldn't attend, you can still be a part of the event's heartening energy!


Chris Farrell offered reflections
You might have heard Chris on MN Public Radio, or read his writing in numerous publications and five books. Especially related to DW's philosophy of empowering job seekers is his work on the podcast Small Change: Money Stories From the Neighborhood. Check it out here.

We let our community know their voices count!
A job is about more than satisfying basic needs. Good work provides people with purpose, belonging, dignity…a say in how they live their lives. Daily Work supports job seekers in building the lives they want to lead – every day, one step and one job at a time, we help them find and raise their voices. And it is reciprocal. As those we serve accomplish successes both small and large, so do we – our staff, volunteers, and interns learn, grow, and advocate.
At Steps to Success, Abdulaleem, Ger, Marwa, Meghan, and Mohammed (pictured left to right) shared their moving stories. We found out how to walk with them on their journeys. Won't you join us?
---
Because good work is not an end, but a means to a holistic and thriving life experience. It provides the foundation for making meaningful life choices that promote financial, physical, social, and community well-being.
---
Here's a thought-provoking video
The 2023 Steps to Success event lives on in this one-hour YouTube recording. If you don't have that much time to spare, you can skip around. Or check back – we'll update our page with video shorts of the evening's highlights soon.
Shout out to our 2023 Steps to Success sponsors
The Fredrikson firm brings business acumen and entrepreneurial thinking to their work with clients, operating as business advisors and strategic partners as well as legal counselors.

The Local Mission Partners (LMP) at Christ the King engage in God's mission with the growing diversity of the Twin Cities, and encourage the building of community relationships.