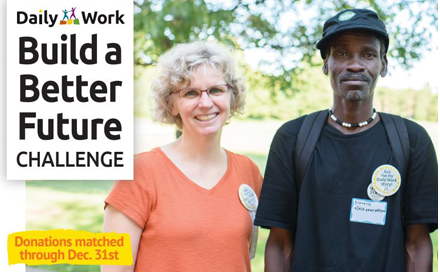 Join us in Building Better Futures
Ojulu came to Daily Work with few clothes, little money, basic English, and determination. With the help of Daily Work volunteer Gretchen, Ojulu improved his English, began to understand American workplace culture, and apply for jobs.
When Whole Foods hired him, Gretchen continued to support him by joining him at the new employee orientation and helping him navigate the online job trainings. 
Each year 200+ job seekers rely on Daily Work's employment and mentoring services to identify entry level jobs and build the skills needed to advance. Your support provides the ongoing employment services and mentoring so our job seekers can find work and move up the career ladder. 
Share your love this season by matching Gretchen and Ojulu's determination. Thanks to generous challenge sponsors, donations made to Daily Work through December 31 will be matched! 
Double your donation when you give today!
Now through December 31, you can Build A Better Future for Twin Cities' Job Seekers. Make a generous gift today and our challenge sponsors will match it!
Donations will be matched up to $25,000 in total campaign gifts.
Did you know? Right now, our annual budget is $180,000, just 60 percent of what is required to support the 200+ job seekers we serve. Your contribution will help close that gap and make it possible to find jobs for every person that walks through our door.