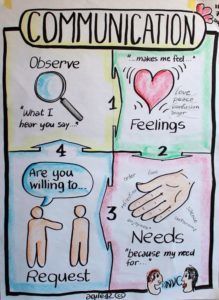 Is your Communication Violent?
Marina here, one of Daily Work's social work interns. I want to share a really interesting method of communication with you. It's called Nonviolent Communication (NVC), developed by Marshall B. Rosenberg, PhD.
Now, some of you may be thinking, what on earth does that even mean?! Is my communication violent??
Well, communication can be full of layers--and we often spend a lot of energy trying to decipher what each other is really saying. That's not to say it is necessarily violent, but sometimes we consciously or subconsciously embed messages in-between-the-lines, or try to control or dominate a situation for better or worse.
Goal of NVC
By using NVC, we can "learn to clarify what we are observing, what emotions we are feeling, what values we want to live by, and what we want to ask of ourselves and others" (The Center for Nonviolent Communication).
Clear Expression
NVC "is based on historical principles of nonviolence-- the natural state of compassion when no violence is present in the heart" (The Center for Nonviolent Communication). This helps us distill down what we are really feeling and helps us articulate it in a way that others might be able to hear more clearly, which in turn can lead to more positive paths of communication and relationships.
Remove Blame & Criticism
A main focus of NVC is to express oneself without blaming or criticizing another. The other main focus is to hear what someone is saying to you without hearing blame or criticism.
Framework
According to the Center for Nonviolent Communication, the way you can use the NVC process is broken down into a four-step framework:
Observations
Feelings
Needs
Requests
Give it a whirl!
Learning to identify our feelings and communicate them effectively can help us stay grounded and operate from a place of compassion. This can help us develop a deeper understanding of one another.
Of course, effective communication is a key part of being a case manager at Daily Work. As a case manager, being able to express myself without blame or criticism (i.e., judgment) is vital to developing trust and having effective and authentic interactions with job seekers. Furthermore, developing a deep understanding of what drives and motivates job seekers means I can ask better questions that will help job seekers identify what they want in a job and what are they able and willing to do to achieve it.
Check out the infographic and explore the resources below or try practicing NVC with a friend or family member to see how it feels! Altering our natural communication style is challenging, so be patient, and enjoy the process!
More information & resources about NVC:
Feelings Inventory: https://www.cnvc.org/training/resource/feelings-inventory
Needs Inventory: https://www.cnvc.org/training/resource/needs-inventory
https://www.youtube.com/watch?v=EHoIOmRYiWE
https://www.cnvc.org/learn-nvc/what-is-nvc
https://nvctraining.com/index.php?option=com_content&view=article&id=689&Itemid=240