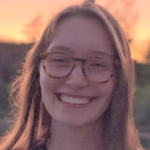 I wasn't sure I was cut out to succeed as a Case Manager. As a Sociology/Anthropology and Women's and Gender Studies student at St. Olaf College, (not Social Work) taking in so much new information about best practices, case notes, and client interaction was daunting. As a non-social work student, I've had a lot to learn about social work practice and the day-to-day operations of a Case Manager at a small, non-profit organization like Daily Work. However, as the weeks progress, I've realized that my background in social sciences is very compatible with social work. It has been really interesting and rewarding to unpack the similarities and differences between the disciplines and the ways they can complement each other. 
The bread and butter of sociology is abstraction--the field is full of analyses of large-scale, nebulous theoretical concepts that aim to understand different aspects of our day-to-day lives. Even though we live through it each and every day, there is so much more to our social interactions and structures than we can see on the surface or even understand through our own experience. However, one of the key aspects of the field is its focus on praxis; if we don't use our knowledge of society to better it, what's the point of studying it? It would be like if epidemiologists wanted to understand the complexities of COVID-19 but didn't spend any time working toward a vaccine.
A focus on praxis, i.e. putting theory into practice, is one of the main similarities that I see between sociology and social work; both fields ultimately aim to make the world a better, more equitable place, just with different strategies and areas of focus. Social work is interested in the individual, and that has been a really valuable perspective for me to gain after spending so much time thinking about large social structures. If I was addressing the issue of unemployment from a sociological lens, I would be inclined to focus on large-scale economic and social systems as well as the American norms and values that valorize employment and take action from there. When approaching this issue as a Case Manager, I look at the background and experiences of the individual to assess their personal strengths and barriers to guide them through the job search process toward employment. 
This internship has been an especially valuable experience because of the highly individualized assistance that Daily Work is able to provide to job seekers--I am able to really get to know the strengths and challenges of individuals in a way that helps me to be a more effective case manager. I have really enjoyed getting to know individual job seekers and gaining a wider perspective on what kind of specific barriers can prevent job seekers in the Twin Cities from becoming employed, as well as how to overcome those challenges.
I'm really excited about the opportunity that Daily Work has given me to help people in a way that I wouldn't immediately turn to in my own studies, and I'm thrilled by the prospect of learning more in the coming weeks! I think that it is very important for individuals interested in pursuing social impact work to find an approach that best fits them, such as a sociological or  social work approach. Daily Work has been very helpful with that exploration, as both are equally valuable.
If you've been thinking about pursuing social impact work, Daily Work provides many avenues for putting theory into action. If you are looking for ways to make an impact and practice physical distancing, call us to learn about our remote volunteer opportunities.