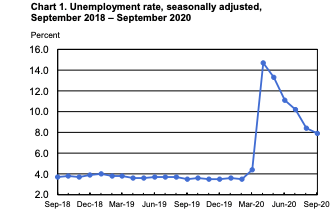 At Daily Work, our mission is to assist job seekers in developing the skills and knowledge needed to obtain stable employment and to address any barriers to achieving it.
As many of you know, the global pandemic caused by COVID-19 has had lasting effects on our communities, families, and the world. More specifically, COVID-19 has "infected" the employment landscape, with immense impacts on unemployment rates, types of employment available, the financial health of families, and hiring opportunities.
Prospective employees may be uncomfortable entering positions that require face-to-face interaction, employers may be downsizing due to state restrictions, or delaying their hiring plans in the face of an uncertain economy.
Let's look at how these situations are impacting millions of Americans, and how Daily Work's service helps.
At the onset of the pandemic in March 2020, the unemployment rate rose by 0.9 percentage points to a total 4.4 percent. This was "the largest over-the-month increase in the rate since January 1975," and is mostly attributable to "the effects of the coronavirus and efforts to contain it."
Fast forward to September 2020; six months later the unemployment rate was still 7.9 percent, after hitting a high of nearly 15 percent in April 2020. September brought more good news with job opportunities increasing in industries such as health care and social assistance, business services, hospitality, and retail trade. Although the job market is improving, American worker's employment opportunities continue to be significantly impacted by curbed economic activity as businesses attempt to cope with the virus and the resulting economic uncertainty. .
Source: Bureau of Labor Statistics (2020). "The Employment Situation - September 2020" from a news release from the U.S Department of Labor. USDL-20-1838. Accessible at: bls.gov/news.release/pdf/empsit.pdf
Job seekers at Daily Work have a variety of concerns regarding COVID-19, ranging from fear of returning to the workforce due to infection risk, to extra urgency to find work due to additional financial burdens related to lay-off. One job seeker came to Daily Work in September 2020 after being laid off from their job due to layoff decisions made by their employer. The employer cited COVID-19 economic restrictions as the reason for their cutbacks. On the flip side, finding a new job has been challenging due to high unemployment still and COVID-19 related restrictions on many sectors, especially the hospitality industry.
It is times like these where Daily Work's commitment to community, service, and respect are most important. We are devoted to providing person-centered and contextually informed services. The job seeker's personal employment preferences and needs are honored and the assistance provided considers all the factors impacting each job seeker's unique situation.
These frameworks allow Daily Work to remain a relevant employment service despite COVID-19's impacts on employment across the country. Our case managers meet job seekers where they are, including attending to needs related to COVID-19. Daily Work case managers and supervisors are keenly aware of the impact COVID-19 has had on employment opportunities and are constantly remaining flexible about how to address the barriers to stable employment during this time, including meeting more frequently with job seekers to expedite their job search process. Other examples include suggesting viable alternatives for job seekers and contacting employers directly on behalf of job seekers.
If you or someone in your family have had your employment, financial stability, or ability to maintain basic needs impacted by COVID-19, consider giving Daily Work a call at 651-204-3043.
We will listen and assist when it feels like no one else will. We will provide customized career services, so you are fully supported during this stressful time. If you are able to, make a lasting impact on job seekers and their families in our community by making a
Links to resources above
https://www.bls.gov/news.release/archives/empsit_04032020.htm
https://www.bls.gov/news.release/archives/empsit_10022020.htm
https://www.bls.gov/news.release/archives/empsit_10022020.htm