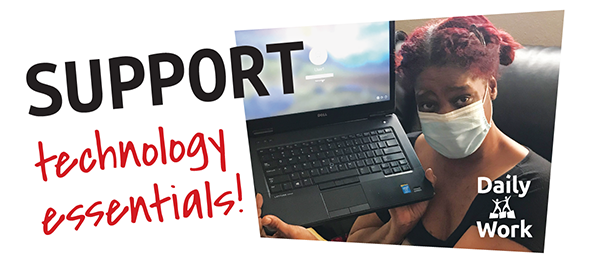 How do you feel when you don't have the right tools for the job? 
Frustration? Sadness? Overwhelm? This experience almost always triggers a lot of emotions, and when stakes are high, it can be outright anxiety-provoking. For Felicia, a Daily Work job seeker and college student, not having a computer of her own was causing both stress and frustration.
"Technology is my biggest barrier to employment right now. I was actually let go from a great paying sales job because not having a computer to get through orientations was causing issues. It didn't look professional," Felicia said recently.
Felicia with her new laptop!
But that changed November 19, when Felicia became the first recipient in Daily Work's Technology Essentials Core Initiative.
TECI will supply a tech essentials core to 100 job seekers: a refurbished laptop computer, modem, three months internet service, and in-home set up. Just two weeks after getting her laptop computer, Felicia was re-hired for the great sales job from which she was let go.
"Everyone at Daily Work really goes beyond their job description," Felicia declares. Daily Work is a real blessing to us."
Felicia's story captures why the support and opportunities that Daily Work provides to job seekers is critical to the health of our communities, our economies, and our collective souls. Now, more than ever, we can better see how our personal village of people connects and supports us.
At Daily Work, we don't just help people find jobs. Just like your personal village supports you, Daily Work supports people in pursuing career goals, leveraging networks, and finding tools to expand employment opportunities and incomes.
This year, we have raised $15,365 towards our $25,000 end of year goal to continue these services. Join us by making a donation today and our most dedicated supporters will match your gift 2:1, up to $25,000. Learn more about who they are and how to give by clicking here.