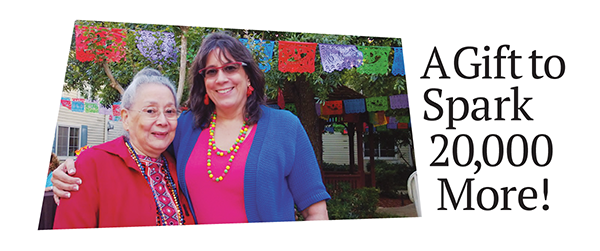 Losing a parent is always a difficult experience. Losing a parent with whom you are very close with, first slowly to Dementia, and then quickly to COVID, can weigh even heavier.
"At first I did not appreciate the challenges of Dementia," says Carmen I. Nitsche of her mother Carmen D. Nitsche's diagnosis that slowly took away her abilities, memories, and life. Carmen understands that her mother's health was already deteriorating, but the pace and brutality with which COVID took her was both an emotional shock and a stark analogy of the pandemic's work on society as a whole.
"If the pandemic has shown us anything, it is that we need each other," says Carmen. "The effects of COVID on family and basic survival are devastating, and it is only fair for those who can help others to do so….We have an obligation to each other…That is something my mom would say."
A $20,000 legacy gift to Daily Work became Carmen's expression to honor the woman who valued the interconnectedness of people above all else. It is the leading gift in Daily Work's $50,000 gift match that will triple all donations made to Daily Work by December 31, 2020.*
You Can Triple the Impact of Your Gift
To maximize the generosity of donors like Carmen and her mother, our goal is to raise an additional $25,000 from donors like you, who believe in our obligation to each other and who believe that good work is the foundation to thriving lives and healthy communities. As of Dec. 16, we have received more than $17,000, about 70 percent of our $25,000 goal.
Join us today by making a donation and your gift will be matched 2:1. Click here to learn more about who else is supporting the effort and for information about how to give. 
Thank your for your partnership. We are so glad you're here.
*Up to $25,000.