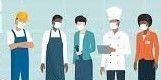 One of the biggest events of 2020 was the COVID-19 pandemic. It impacted the entire world and changed the way that we lived our lives. The pandemic continues to be a global problem as we enter 2021, yet people's lives can't be put on hold until it ends. You can still find work!
As a case manager at Daily Work, one of the questions that I get asked often is "are there any jobs for me to apply to?" With all of the closures that have occurred due to the pandemic, many people are worried that there aren't any jobs available.
Fortunately, that's not the case! There are still plenty of jobs out there that you can apply to.
Here are some industries that are continuing to hire:
Transportation, Warehouse and Delivery
Food and agriculture
Emergency Services
Healthcare
Communications and IT
Construction and Real Estate
Manufacturing
And so much more! Check the websites below for more information.
Although there are plenty of jobs to apply to, parts of the job search process are now different due to the pandemic.
Much of the process is now remote. Although job applications have been online for the past several years, many interviews are now done remotely over the phone, or video chat. Interviewing remotely can be a very different experience from talking to someone in-person, so it is important to practice interviewing over the phone, or by video. For job interviews that are happening in-person, be sure to wear a mask and maintain social distancing guidelines to ensure that you and the interviewer are being as safe as possible.
There is a lot of competition. With all of the closures, layoffs and furloughs that occurred due to the pandemic, many people are unemployed. Although there are a lot of jobs available, there are a lot of people applying to them as well. To increase your chances of receiving a call after submitting your application it's important to customize both your resume and cover letter to each job. According to a survey conducted by the AARP, cover letters are even more important now than ever before.
Online presence is more important than ever. Because the job search is highly competitive right now, it is very easy for your application to get lost among all the other applicants. Networking online via Facebook, LinkedIn or virtual job fairs is another important strategy in finding a job. During COVID in person networking events have been cancelled, but there are several networking events online that you can take advantage of.
Communication is slower. If you don't hear back from a job immediately, don't panic. With all of the changes that have occurred in companies due to the pandemic, many HR departments are busy with their current employees. Stay positive, and send a follow up email or call to keep yourself on their radar.
Although finding a job has changed a lot over the past year, it is still possible to find employment. Daily Work is here to help. If you are having trouble finding a job, or adapting to the job search during a pandemic, give us a call.
Sources: