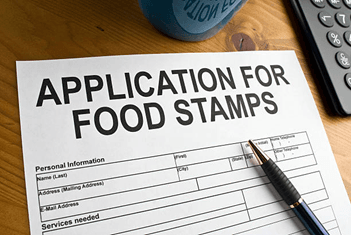 In many encounters with job seekers, I have come across a particularly curious theme. I have talked with several people who come in wanting to discuss applying for certain assistance programs like Section 8 housing, but then do not want to sign up for other forms of assistance, even though they identify a need due to lack of adequate income. It has made me wonder why some programs are more or less appealing than others.
My first thought is that there is a perceived stigma around certain programs, and those may differ from person to person based on their past experiences. Others programs may be universally stigmatized. One program in particular that people seem to react to is food stamps, now known as Supplemental Nutrition Assistance Program (SNAP). Many tell me that they feel food assistance is just a band aid.
SNAP is for low-income households, but the majority of people served are families with children, seniors, and people with disabilities. It's goal is to ensure that everyone can afford a nutritious diet and it is considered the "...nation's most important anti-hunger program."  
Prior to 2020, SNAP was seeing significant decreases in its caseloads by the millions. The program seeks to decrease the disparity for people below the poverty line to get a nutritionally adequate meal on the table without worrying about how they are going to afford it. Another great thing about SNAP is that it is inconspicuous; recipients receive funds on an EBT card which looks no different from a debit or credit card. SNAP requires participants to reapply regularly, so a household does not need to be on it forever. The assistance will end either when the household exceeds the poverty threshold or if they stop renewing their eligibility for benefits.
Another important program is Temporary Assistance to Needy Families (TANF). The Federal government provides funding to states to disperse TANF funds. States have a lot of flexibility in how they choose to do that. In Minnesota, TANF program funding is distributed through Minnesota Family Investment Program (MFIP). The program provides cash assistance and in Minnesota, food support to families with children. The program is used as a bridge to help families meet basic needs while getting back to work. 
After talking with people that do not want to put a band aid over their issue of food or income insecurity through assistance programs, I realized that is exactly what these programs are meant to do. A band aid protects an injured part of the body from unwanted disruptions or particles in their environment so that it can heal. The aim of assistance programs is to protect people from unwanted barriers and alleviate stressors from their personal environment so that they can focus on other ways to eventually support themselves. They serve their purpose by being a temporary fix until households can become fully independent. Here at Daily Work, we strive to remove the barriers for people to access their basic needs. Therefore, if you have a need for SNAP or MFIP, please do not hesitate to contact us and set up an appointment.