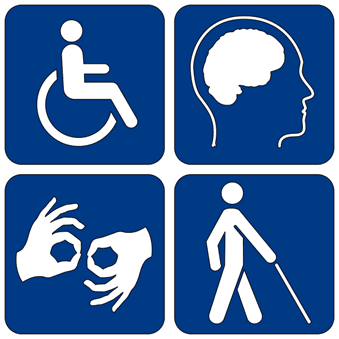 This blog post was written to educate and spread awareness about the stigma of disabilities in society. I will be explaining what a disability is, what the definition of stigma means, and how stigma against people who are disabled is harmful and inaccurate, and what we can do to be more inclusive and aware.
What is stigma?
Stigma is a negative set of beliefs about people with specific characteristics such as their race, religion, sexual orientation, sex, mental illness, intellectual disabilities, and physical disabilities.
What is a disability?
A disability is the impairment of the mind or body that makes it difficult for the individual to complete certain activities and impacts their daily life and their interactions with those around them. There are different types of disabilities such as vision impairment, deaf or hard of hearing, intellectual disabilities, physical disabilities, and mental disorders. Some physical disabilities are spinal cord injury, cerebral palsy, and epilepsy; while some mental disorders include depression, anxiety, schizophrenia, and bipolar disorder. 
Effects of stigma
Those who are stigmatized can be discriminated against, experience harassment, or physical violence. The prejudice and discrimination they face can impact their education and employment opportunities. Those who are stigmatized might experience feelings of shame, hopelessness, self-doubt, identity crisis, and they might even go into isolation. They might be reluctant to ask for help or receive treatment and lack understanding from their family or friends.
There are many stigmas against disabilities, and they come from stereotypes that are inaccurate, negative, and offensive. For example, people who have mobility issues or depression can be judged as lazy, and those with schizophrenia can be labeled as crazy, uncontrollable, and dangerous. Seeking help from a therapist can also be seen negatively and believed to be a sign of weakness. These stereotypes and misconceptions are caused by media, societal beliefs, cultural beliefs, and lack of awareness and education, causing harm to the community.
What can we do?
Find what you have in common before thinking about the differences, do not victimize people and take away their power, individuality, and strength. Be careful of the words you use, be open-minded and inclusive, make eye-contact and be respectful, and never assume that a person with a disability views their disability as a tragedy or disadvantage; they have overcome many obstacles and like anyone, recognize their strengths. Ultimately, treat everyone with equal respect and kindness, spread awareness, and educate others.