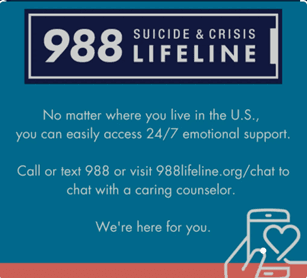 According to the FCC, in 2020 alone, the U.S. had one death by suicide about every 11 minutes – and for people aged 10-34 years, suicide is a leading cause of death.* In Minnesota, suicide is the second leading cause of death for this age group, and overall, the eighth leading cause of death in the state (https://cams-care.com/state-statistics/minnesota/).
These statistics, among many others, have raised questions about what can be done at a national level to assist those experiencing crisis and thoughts of suicide. In 2019, in response to rising suicide levels, the FCC proposed a bill to congress created a National Suicide and Crisis Lifeline which consists of over 200 crisis centers nationwide to assist people experiencing crisis or suicidal thoughts.
National Suicide Hotline Designation Act 
The National Suicide Hotline Designation Act was signed into law in October 2020. Nearly two years later, on July 16, 2022, all calls and texts to the three-digit code 988 began being directed to the National Suicide and Prevention Lifeline. 
When someone dials 988 they will be connected to mental health professionals with experience in crisis prevention and de-escalation techniques, rather than police officers who may not have as much training in these areas. This has led to many advocates calling the bill the "care not cuffs" bill. 
As a case manager at Daily Work, I frequently come across job seekers who are suffering from chronic or sporadic feelings of depression, a common risk factor for suicide. Some job seekers are worried about being able to afford the next month's rent or being able to feed their family. The job search process itself can be very defeating, and even once a job is obtained, keeping it and performing to expectations can significantly increase anxiety. Often, I can tell that people are hesitant to share these types of feelings, at the same time, I am also aware that many people lack someone to listen to their ordeals or provide resources that can help them. Now with the hotline, I am confident that I will be able to guide our job seekers better. 
Counseling and Crisis Resources
The implementation of the 988 hotline marks a small but significant victory in the fight to stem the rising rates of suicide in the United States; however, there is much more to be done in the realm of crisis prevention. 
At Daily Work we advocate for mental health awareness when supporting people in overcoming a myriad of challenges to secure a fulfilling life for themselves and their families. We know that we are all in this life together. If you are struggling and feel the need to be heard or you know someone who is, share the 988 hotline or with them or locally, check out Walk-in Counseling Centers, which provide free or sliding-fee mental health services to people in our Twin Cities community. The Minnesota chapter of National Alliance on Mental Illness (NAMI) also has a variety of resources on their website. 
*Source: "988 Suicide and Crisis Lifeline." Federal Communications Commission, 20 July 2022, https://www.fcc.gov/988-suicide-and-crisis-lifeline