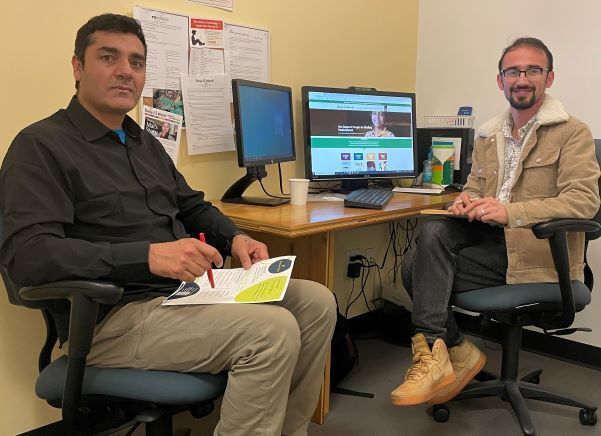 Expanding Our Services to Support New Afghan Arrivals
Mahdi Sarbaz (at computer with job seeker Zalmai) was a university teacher and worked with various domestic and international media when Afghanistan fell to the Taliban in 2021." After entering America, my main concern was finding a job," says Mahdi. He had heard that 9 out of 10 American companies needed employees, but despite his significant credentials and experience, it was not easy for him to find suitable work. Mahdi wanted a position that fit his goals and values in life.
"I wanted to focus on being productive, instead of busy." He learned about Daily Work from a friend, and he reached out to learn more. "I realized Daily Work was taking notes of my interests and needs to find a suitable job," observes Mahdi. "Daily Work pays attention to all aspects of the immigrant life, including educational opportunities, language training, computers, internet, health care, and answering email. Anything that would help." On his third appointment, Mahdi received a long list of job opportunities. One of the positions was as a case manager at Daily Work working with Afghan evacuees. To Mahdi, this was suitable work, and we welcomed him to our staff in October.
More Than Twelve Hundred Afghan Evacuees Have Come to Minnesota Over the Past Year
The sheer number and how quickly they arrived created tremendous bottlenecks for services. When Daily Work agreed to join in the State of Minnesota's resettlement efforts by providing employment services the assumption was that evacuees would have strong support for basic needs, housing, and language classes. Unfortunately, this was not the case. Long wait lists for services were often the norm; some evacuees had never even been contacted directly by other assigned service providers. So Daily Work stepped forward.
Since June Daily Work Has Supported 24 New Afghan Arrivals – More Than Double Our State Contract
As of late September 2022, nine have started jobs that pay an average of $20.52 per hour. In addition to resume, networking, application, and interview services, we've increased efforts to include more resources for paying past-due rent, providing interpreters, obtaining driving lessons, and providing transportation to and from Daily Work appointments and job interviews. Staffing, volunteers, and employer partnerships have also expanded.
Referrals Keep Coming, and Those Who Have Secured Work Continue to Seek Our Partnership
Heading into the final quarter of the year our state contract has ended, but our commitment has not. Daily Work's relationship-based model means we collaboratively strive to advance the life and work prospects for these new Americans and all of our job seekers. We are their network. Their emotional support. Their local guides.