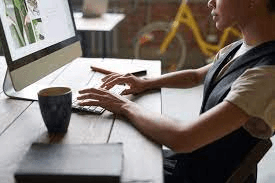 It has been more than two years since the beginning of the Covid-19 pandemic and many of us are still adjusting to the so-called "new normal." For some, this has meant becoming increasingly reliant on technology to stay connected. In fact, more than 90% of U.S. adults say that the internet has been important or even essential for them during this time. 1
When loved ones, employment, and even health care are physically inaccessible, online tools like Zoom can act as a lifeline. However, access to digital technology is far from a given. As online communication pervades more and more aspects of public life, it is worth considering who is being left out of the conversation.
What is the Digital Divide?
The term "digital divide" refers to the unequal access to technology which exists in many communities. In the greater Twin Cities area, around 10% of households do not have an internet subscription.2 Nation-wide, this number is closer to 30%, climbing as high as 59% among those making less than $20,000 per year. 3
Even where an internet connection is available, lack of access to digital devices or limited experience navigating online spaces, can create additional barriers. Older adults, low-income families, and those living in rural counties, in particular, are more likely to feel the impact of these growing gaps.
How Does This Affect Job Seekers?
From resume writing to navigating digital job postings, computers are becoming harder to avoid when searching for work. As a case manager at Daily Work, I have met with several job seekers who were asked to complete virtual interviews with employers who did not offer alternatives (such as, meeting by phone). Even after securing a job, some may be asked to complete paperwork or training modules online. For those without internet access at home, this can make the employment process unnecessarily difficult.
How Daily Work is Addressing This Issue ?
One way that Daily Work is working to overcome these challenges is through the Technology Essentials Core Initiative, also known as the TECI program. Through TECI, we are able to provide jobseekers with refurbished laptops, internet connectivity, and technical support.
Job seekers can also work one-on-one with case managers to navigate the application process, or to seek out low-cost internet options. Additionally, those wishing to gain foundational computer skills can attend one-on-one coaching sessions hosted periodically on-site at our office. Together, these are just a few of the ways that we are working to limit the impacts of digital inequity.
What Can You Do?
Accommodate - If you are an employer or volunteer coordinator, consider offering multiple avenues for completing the application process. Your ideal employee may be one paper form or in-person interview away!
Advocate - Spread awareness by starting conversations with friends and family about digital equity. When you see that technology is creating an unnecessary barrier to services, point it out! Many people may be unaware of just how pervasive these gaps are within their own communities.
Donate - In 2019, 98% of job seekers served by Daily Work reported struggling with basic technology skills. If you are passionate about closing gaps to economic opportunity in your community, consider donating or offering your time as a volunteer to Daily Work. Your help is invaluable in supporting our mission.
---
Sources:
1 McClain, C., Vogels, E., Perrin, A., Sechopoulos, S., Rainie, L., (2021). The Internet and the Pandemic. Pew Research Center.
2 Percentage of Households with Internet Subscription. (2022, June). Minnesota Department of Employment and Economic Development. https://mn.gov/deed/data/economic-analysis/compare/compare-metro/energy/internet.js
3 Gleason, K., & Suen, J. J. (2021b). Going beyond affordability for digital equity: Closing the "Digital Divide" through outreach and training programs for older adults. Journal of the American Geriatrics Society, 70(1), 75–77. https://doi.org/10.1111/jgs.17511