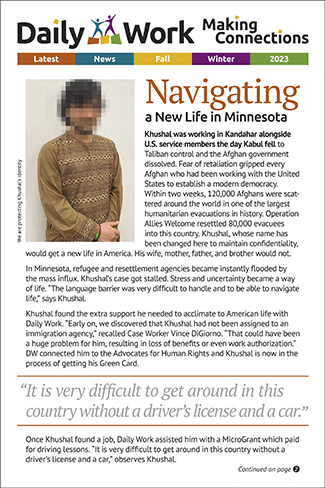 In an ever-evolving global landscape, Daily Work continues to rise to meet developments in our community and strives to drive change. Our latest newsletter shows you just some of the ways we help job seekers, especially the influx of new arrivals.
• The cover story, Navigating a New Life in Minnesota, introduces Khushal (whose name is changed for his protection). Evacuated from Afghanistan when the Taliban took over, his wife, parents and brother are still there. As if resettling without his loved ones wasn't stressful enough, Kushal nearly fell through the cracks here when he was not assigned to an agency to assist with legalities of the immigration process. With DW guidance – from finding the legal support he needed to getting him behind the wheel – Kushal is acclimating to America and trying to map out a future where he can bring his family. "It is difficult to come to a new country. But I am happy because I'm in the U.S. and I have some peace now."
• Research Shows Daily Work is Transformational to Stakeholders confirms what we thought we always knew: our flexible, person-centric approach that prioritizes individual needs is more than important – it is transformational. While landing a job is a significant milestone, we now possess tangible data that demonstrates that our participants – job seekers, interns and volunteers – find profound transformational impact in their interactions with Daily Work.
• In Meet Mari Jo Long we profile our board chair. Years ago, as a nonprofit neophyte, she interviewed for a Daily Work position (and didn't get it). Now an experienced professional she serves as a guiding north star for the board, whose challenge is to increase resources to sustain our holistic approach. At DW we know it's paramount for case managers to truly hear each person's story, and offer more than just task lists. Mari Jo passionately states, "Everyone in the industry will say, 'We don't have time to provide that level of service.' Well, Daily Work doesn't either, but we do it because that is the level of support needed for someone with so few resources to be successful."
• 2023 Sunflower Award – goes to Mr. Anonymous! Without prompting, he has faithfully contributed every month since 2013. Such longevity has helped create a stable foundation to build staff and programming. We don't get a lot of donors like this. To sustain a monthly gift for 10 years is exceptional, and we thank him for his commitment!
• The article Why Is It So Hard to Get a Driver's License in Minnesota?! is literally about driving change. It delves into difficulties that immigrants face passing driving tests. Eric explains that the MN driver's manual is nearly 100 pages of technical info and sometimes obscure facts. Allan makes the absurdity clear: "How do you translate 'When carrying a canoe on top of your vehicle, it cannot stick out more than 3 feet from your front bumper' to someone who just arrived from a war-torn country?" Daily Work is committed to developing interventions to overcome the hurdles and get people on the road.
• Give to the Max: Help us drive change on November 16th – or contribute on any day! Donate by December 31st for a 2-to-1 match!! Use the envelope enclosed in the newsletter, visit GiveMN.org, or link to our donation portal.
• Gratitude Feast: Thanksgiving Day, 12–2. DW and Shobi's Table invite everyone to a meal of classic and cross-cultural foods. Welcome new arrivals and share with them the true spirit of this American tradition. RSVP by November 20th via email to Judy.
• Call for Job Shadowing Volunteers: Case Manager Linda Lopez is creating a database of volunteers willing to allow a person to shadow them at work. It's a powerful tool to help people narrow in on career choices from the thousands of options. If you can give a couple of hours to a job seeker, email Linda.
---
Read the full newsletter as a pdf. And if you're not already on our mailing list, receive future print copies by signing up here.