Job Seeker: Aric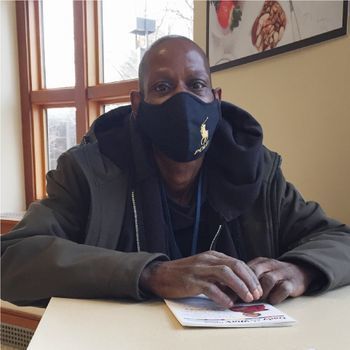 Tech Assistance and One-to-One Attention Helped Aric
Like many people, Aric lost his previous job due to the pandemic. Then he was hired for a position cooking at Bon Appetit dining services at Macalester College. Near Aric's house, it was close enough to ride his bike – a big benefit since he did not have a driver's license. The hours allowed him to get home mid-afternoon to take over childcare before his girlfriend left for her job.
Aric shared that he couldn't have found it without help from Daily Work. He is grateful that Daily Work coached him, and wants others to find help there, too.
---
I've been telling my friends that [Daily Work] will help you get on the computer and help you find jobs. [People] don't know where to go. They don't know you can't be on the street looking for a job.
~ Aric
---
Aric offered other ways Daily Work contributed to his life: helping him buy eyeglasses, restore his license, practice interview skills, and navigate unemployment insurance. Aric received a stimulus payment after not knowing how to apply and initially assuming he wasn't eligible. It put him on more solid ground, able to contribute to the rent for the house he lives in with his mother and brother.
"That got me back to paying bills," Aric recounted. He credits his case manager Vince, a Daily Work volunteer, for encouraging him to take the steps to stay afloat. "Then Vince said, 'I want you to have a job before the unemployment runs out.' I really like working and not sitting around the house, so I really like working with those guys at Daily Work."
Adapted from article by Shelly Ryan, Volunteer • Daily Work Making Connections newsletter, November 2020