Volunteer: Linda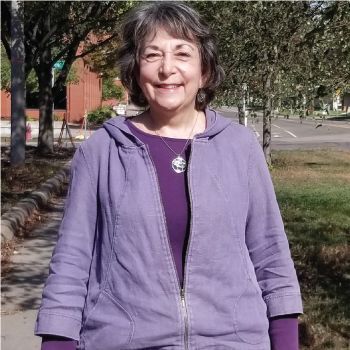 A Friend of Empowerment
Linda Lopez's degree in counseling psychology led her into a job as a high school counselor. "I really like high school kids," says Linda. "They want to be listened to." However, several interstate moves made credentialing difficult, and so did finding the right schools for her kids. 
"I ended up homeschooling my kids. I tried to transition the older two back into public schools, but they weren't interested." The kids liked their experiences and relationships in the diverse home-schooling community. "As the kids started getting older … I started consulting with students and parents on how to finish high school and transition into college and jobs. I also started teaching classes like study skills, career planning, and personal finance." 
"She was a natural fit for Daily Work," says Executive Director Julie Hoff. "All of her skills were relevant to our job seekers." 
Linda found Daily Work through Opportunity St. Paul, a program of Interfaith Action. She started volunteering two years ago with a couple of job seekers. Now she mentors six. 
Her job seekers have come from places across the world such as Nepal, Africa, and Colombia. The skills and experiences of individuals have been equally varied and include a teacher, a certified welder, and immigrants with advanced degrees. 
---
The reward is the relationships that I've been able to form, even the short-term ones.
~Linda
---
"Job seekers share a lot of their lives with you. It becomes personal," says Linda. "I knew they would have barriers, but hearing about their experiences firsthand is different."  
"One person didn't have any money to put gas in their car or to pay for car insurance. They were terrified about getting pulled over without insurance. Driving to a new job that doesn't produce income for two or three weeks was a huge risk for that job seeker," she observes. 
COVID has also backed up the DMV and driving schools, making people wait months to get classes or take the license test. Public transportation is expensive and offers fewer routes and times than pre-COVID. "So if you get a job that runs four-hour shifts, and it costs you an hour's work to use public transportation, the math doesn't work very well," Linda says. 
She also sees discrimination against older women, especially immigrants and those with accents. "Even with credentials, it is difficult for older women to get hired," she notes. 
In the face of so many obstacles, Linda is impressed by how much job seekers, especially newcomers, accomplish. "They research, resource, figure out how to navigate systems." 
Now that job searches are all automated and online, even applying for a janitor position requires a computer, portal logins, and fast-turnaround email responses. "That's what makes Daily Work so great. If someone only has a phone [and no computer], we can expedite applications because we have the technology and capabilities."