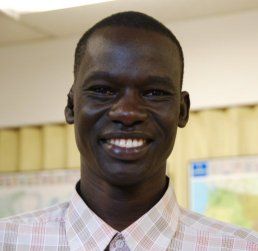 When he first arrived in America, Obang said it was very difficult to find a job. He did not know English well. He did not know our American culture. He didn't have a network of people to assist him and he had no transportation.
Through a church in his neighborhood, Obang became connected with Daily Work. Daily Work assisted him in preparing a resume and in developing a strategy to find employment. We assisted him in making appropriate contacts with employers that resulted in his finding a part-time job at Fairview Hospital. As a result of having employment, he was able to bring his three daughters to America from Africa. When they arrived, Daily Work and his local church worked together to help Obang and his daughters find a suitable apartment, which they have now made their home.
In the meantime, Obang continued to work with Daily Work to find a full-time job. With our assistance, he advanced in his job and now has full time hours. He learned to drive after Daily Work connected him with a county program that offers adult driver's ed. Through a Daily Work referral to Lutheran Social Services, he took a financial planning class and learned how to save enough money to buy a car.
In 2010, Obang began studying hard to pass the requirements to become an American citizen. On April 21, 2010, with the congregation from his church, Lutheran Church of the Redeemer, and Daily Work present, Obang became a citizen of the United States saying, "I am proud of my accomplishments and look forward to continuing to live out the American dream of hard work rewarded by advancement."