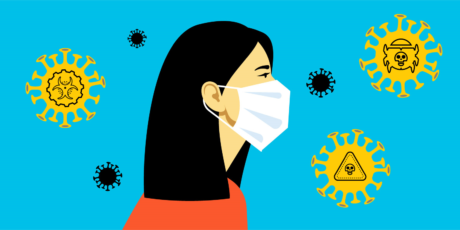 CDC report shows People of Color are getting COVID more frequently
People often say that COVID-19 "doesn't discriminate" in an attempt to encourage people who see themselves as immune to take social distancing and mask precautions more seriously. This good-natured attempt at promoting social responsibility is true in many ways: young, healthy people can contract the virus, and maybe more importantly, they can pass it on to those who are more vulnerable than them. However, even though COVID-19 can infect any of us, and in that sense, does not discriminate, our social structures certainly do.
According to a report published by the Center for Disease Control (CDC) in June, the COVID infection rate of Black Americans and Native Americans is five times higher than that of white Americans, and the rate of infection of Latino Americans is four times the rate of white Americans. There are certainly countless factors that play into these disparities, but they are not largely biological. Here are a few factors I would point to as a Case Management Intern at Daily Work that perpetuate these disparities:
1. Working from home is a privilege that many people of color (POC) do not have: People of color are more likely to work in the service industry as cashiers, fast food workers, CNAs, and manufacturing workers than white Americans. These workers have remained "essential" throughout the pandemic, requiring them to continue working often without adequate personal protective equipment (PPE). These workers are expected to put themselves at risk to serve others, which disproportionately affects POC.
2. Discrimination in healthcare and medical racism: People of color, especially Black Americans, are far less likely to be taken seriously by medical professionals, as evidenced by the shocking fact that Black women have a maternal mortality rate nearly four times higher than white women in America. The explanation for this disparity is again not biological, but social, and it extends to nearly every aspect of medical treatment, including COVID-19.
3. Poverty: POC in America are proportionately more likely to experience poverty or have a lower income than white Americans, again due to structural and systemic discrimination. This can limit access to high quality or affordable healthcare and prevent people from being able to stockpile resources so that they have to go to the store more often and risk virus exposure. Additionally, due to the general lack of affordability of healthy and nutrient-dense food, poverty makes people more likely to suffer from preexisting medical conditions such as diabetes or heart disease that make COVID-19 more deadly.
I am currently working with a job seeker who is pursuing a position in a hospital or assisted living facility. She has been concerned about the level of safety in terms of available PPE and each employer's commitment to protecting their employees from the risks of COVID-19 at each new job we apply to. She sees this work environment as a potential risk to her health, but it is also where she has the most job experience. So, she is forced to weigh her health against her likelihood to be hired.
The virus has exposed some of the most severe systemic inequalities that exist in America today and reinforces the importance of Daily Work's goals. Daily Work exists to serve many of those who are currently the most vulnerable. Daily Work helps connect job seekers not only with employment, but with other agencies and services that can minimize the struggles of day-to-day life in our current social and economic climate.
Our case managers are happy to help anyone who is looking for assistance, and we strive to offer person-centered services that emphasize trust and dignity between the case manager and job seeker. This commitment can be understood through our diversity, equity, and inclusion statement: "Daily Work recognizes the adverse impact of systemic inequality and believes our community is stronger when all people thrive. We hold ourselves accountable to centering our services and decision making in ways that drive diversity, equity, and inclusion." Where there are disparities, Daily Work strives to create parity. We hope you will join us in this effort.
To learn more, check out the resources we used for this blog.
https://www.brookings.edu/blog/up-front/2020/03/27/class-and-covid-how-the-less-affluent-face-double-risks/

https://www.jec.senate.gov/public/_cache/files/bbaf9c9f-1a8c-45b3-816c-1415a2c1ffee/coronavirus-race-and-class-jec-final.pdf

https://www.cdc.gov/coronavirus/2019-ncov/need-extra-precautions/racial-ethnic-minorities.html

https://www.statnews.com/2020/06/15/whos-dying-of-covid19-look-to-social-factors-like-race/