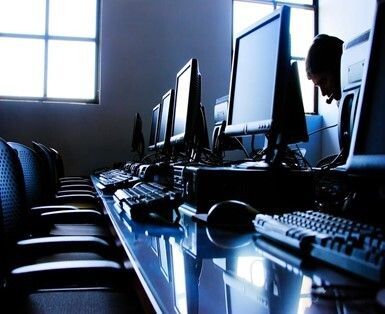 Can I have a paper copy? A thing of the past
Does anyone remember a time when you didn't need a computer for everything? Well, I do! I remember being fifteen and walking into a local store, asking the manager if they were hiring, and then receiving a paper application to fill out. That was it! It was a simpler time. For people without tech skills or the means for a computer or internet, obtaining employment, housing, and education was more accessible than it is now.
Access to technology and real-life concerns
Although, technology has a major role in our lives and offers many positive benefits, it also produces many negative factors as well. At Daily Work, some common concerns that job seekers encounter are often related to accessing technology. For many employers the application process is online. This often requires job seekers to create and/or upload employment applications, having to use a computer. But what if you don't have access to a computer? Everyone should have the right to employment through the means of affordable computer access and technologies.
Job seeker experiences and interconnecting issues
If job seekers don't have the means to obtain access to technology, then they are forced to find other resources to assist with these concerns. Some agencies and /or libraries offer some access to computers or technology assistance, but this support is usually very limited. An interconnected issue that furthers job seeker accessibility options is lack of transportation to receive support. When access to technology is limited, the issues compound into a challenging job seeker experience.

Why is it important to have accessible technology?
Systemic discrimination within our policies creates social and economic disadvantages that impact the job seeker. It is important for everyone to have access to technology so that communities can reach their goals for economic self-sufficiency for their residents. If job seekers need a computer to apply for jobs, then there should affordable technology accessible to them. Access to employment is a right and should not create barriers to economic inclusion. If supportive technology resources are limited and not affordable, then what choices do job seekers have? Obtaining access to technology to increase employment opportunities is a right for all.
Local Resources in Minnesota:
Access to Computers: Daily Work is helping job seekers obtain computers through the Technology Essential Core Initiative (TECI) program.
Located In: Christ Lutheran Church/Address: 105 University Ave W, St. Paul, MN 55103/Phone: (651) 204-3043/Website: https://daily-work.org/
Access to Computers: PC's for People provides opportunities for families, individuals, and nonprofits to receive access to discounted computers and internet service.
Address: 2492 Doswell Ave, St. Paul MN 55108/Phone: (651) 354-2552/Website: https://www.pcsforpeople.org/
Access to Job Training: The Saint Paul Workforce Center offers a wide range of innovative services, including one-on-one guidance, training, networking, labor market information and much more.
Address: 540 Fairview Avenue North, Suite 103, St. Paul, MN 55104/Phone: (651) 651-539-411/Website: https://www.careerforcemn.com/saintpaul
Affordable Internet Service: The Internet Essentials Program offers free internet service through the Affordable Connectivity Program (ACP). ACP helps individuals and families experiencing financial challenges stay connected to the Internet. Qualifications apply.
Phone: 1-(877) -710 -4030/Website: https://www.xfinity.com/learn/internet-service/internet-essentials