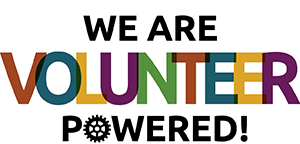 So, you want to get involved in the community and make a difference, but you're not quite sure where to start. There are plenty of causes you care about and important nonprofits that are working to make our community a better, more equitable place, but how can you find the right one for you?
While it might seem simple, choosing a nonprofit organization to volunteer with can actually be a challenging decision. There are so many options to choose from, it might become overwhelming. Even if you care about a cause, how can you ensure you're a good fit for the position? Here are some ideas to help you find the right fit for volunteering.

As an organization primarily powered by volunteers, here are Daily Work's tips to finding a volunteer position that's right for you.
Find your passion.
The first step to finding your fit for volunteering is to make sure it's something you're interested in. There are a variety of worthy causes out there, but volunteering in an area where you have either interest or passion is likely to make the experience more worthwhile. Make a list of groups, causes and issues that elicit an emotional response in you. For instance, perhaps you care a lot about the elderly because you were very close with your grandmother. Or, you love donating blood because you have a rare blood type. Write down the things you care about to evaluate your passions.
Consider your skills.
Next, consider what skills you have to offer in a volunteer position...or what skills you are interested in gaining. Nonprofit organizations love skill-based volunteers, but they are also good places to gain new skills, too. Think about what you're good at and how you could use that in a volunteer role. Just like when applying for jobs, you might have many transferable skills that you can apply in a volunteer role. For example, maybe you don't love working with people, but you're great with numbers, so you could help with financial services. Or, maybe you're great at projects around the house, and could offer free services to fix up their building. Whatever your strengths are, you can leverage them to support a cause you care about.
Ask around.
Once you've identified what you love and what you're good at, it's time to investigate charities to work with. Of course, where's the easiest place to start? With your family and friends! Ask the people around in your life to see if they know any nonprofits with valuable causes who could use an extra set of hands. If you're still not sure, question those closest to you where they could see you volunteering. Sometimes an outside perspective is the best one we can gain on our lives, so ask where your loved ones think you should volunteer.
Search online.
There are a variety of online databases available for people interested in volunteering. Sites like VolunteerMatch, Idealist and HandsOn Twin Cities all have networks of organizations in need and volunteer positions available. In Minnesota, the MN Council of Nonprofits has an option to search for volunteer positions in addition to a myriad of job opportunities. Simply go to the site, type in your location and what you're interested in, and surprise! You have a complete list of nonprofits in your area looking for volunteers like you. Give it a try to start you off on the right foot as you continue to pursue a valuable volunteer match. Of course, Daily Work has a variety of volunteer opportunities available, too.
Take your time.
Once you have connected with a charity, it's time to dip your toe in the waters. It's perfectly fine to take some time to get your feet wet. Volunteer when and where you can, and see how you enjoy working with the organization. Once you feel more comfortable in volunteering, there will be plenty of opportunities for you to get more involved. And of course, always be sure to organize your time well and honor the commitment you make. Volunteers are vital to the success of many organizations, including Daily Work, and we rely on volunteers to be dependable when fulfilling their volunteer role and responsibility.
If you're ready to learn more about Daily Work, call Volunteer Director Judy Sharken Simon at (651) 204-3043. We have a variety of interesting roles from number crunchers who help us measure our impact, to drivers who help job seekers come to appointments, or computer coaches that help teach computer skills. If you have a special skill, just let us know and we can see if we can find the perfect fit for you.