Immigrants face a variety of complex challenges that create barriers to finding good work. We're driving to change that.
---
The number of people born somewhere else climbed by nearly a million last year, reaching a record high of just over 46 million, according to new estimates from the U.S. Census Bureau.
~NPR News, September 14, 2023
---
In an ever-evolving global landscape, Daily Work continues to rise to meet pressing needs in our community.
Minnesota is a leader in welcoming new arrivals. But once here, most face daunting bureaucratic challenges that compound their trauma and make it difficult to find employment.
At Daily Work we provide flexible, customized services that transcend job search basics: from help with driver's training and license acquisition to navigating the maze of social service agencies, from supplying computers and tech training to moral support, and more…we are there.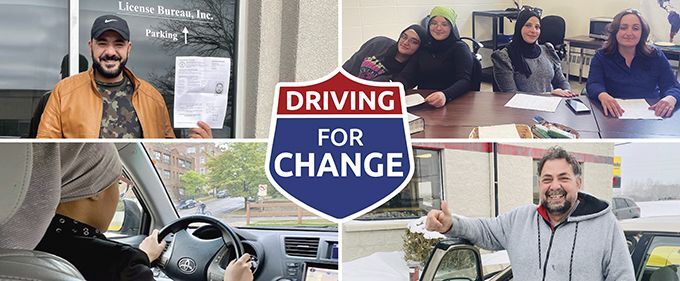 And demand is absolutely surging. In 2023 we're on track to assist 25% more job seekers than last year. Almost 80% of them are immigrants or refugees. Due to this increase:
• Our interpreter costs have doubled.
• We hired an additional full-time case manager.
These investments are essential…and add significantly to expenses. Your gift is crucial to Daily Work's ability to meet demand. Hit the button below to go to our secure online donation page now.
Gifts are matched 2-to-1 through December 31st!
---
They helped me find a good job and get my driver's license. They showed me how to be successful in the United States.
~Anonymous Job Seeker
---
Daily Work envisions a world where people are more than surviving – they are thriving – supporting their families and mapping out their own futures. Investing in job seekers is not just doing what's right, it's building a better community for all of us. Donate and be a change driver to help make this vision a reality!
And since we know some folks have an annual tradition of donating for Give to the Max, you can alternately link to our GiveMN page with this button.
---

A shout-out to our matching gift sponsors!  Tom & Nancy Arata •  Imogene Hoff • The Corridoni Foundation for Agency and Self-Determination • George & Kathy Kolstad • Mari Jo Long • Dave & Linnea Krahn • Vern & Birgitta Rice • Peter & Gerry Rogness • Mark & Alison Savin • Maryellen Skan & Peter Thiel • Marie Stodolka
---
Daily Work is registered in the state of Minnesota as a a tax-exempt, nonprofit organization, EIN 13-4336713, under section 501(c)(3) of the Internal Revenue Code. Contributions are tax-deductible to the extent allowed by law.
We are proud to be a Charities Review Council Meets Standards® organization and have earned the Guidestar Gold Seal of Transparency. Click here to read our Donor Privacy Policy.