We Are Expanding Services to Support Afghan New Arrivals and You Can Join the Effort
---
Daily Work is focusing our strengths on our community's current needs
In a moment, at 21 years old, Samander's life changed forever. With just two weeks to prepare, he learned that he was to be evacuated from Afghanistan along with his mother, father and siblings. If you yourself are a US-born citizen, can you imagine leaving everything you know and fleeing half-way around the world? Samander is just one of the more than 1,200 Afghan evacuees who now call Minnesota home.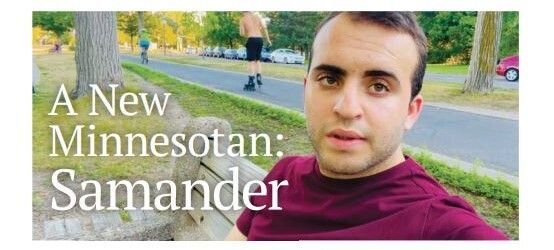 Resettlement efforts for Afghan evacuees have been complicated by the sheer numbers of people and how quickly they arrived, creating tremendous gaps and needs in our community. This summer, Daily Work entered a contract with the State of Minnesota to aid these new arrivals. Our understanding was that evacuees would have strong supports for basic necessities, housing, language classes and more, and that we would be able to focus on employment services. But this was not the case.
Pivoting to meet the circumstances
The summer and fall were a whirlwind. To address the needs, our services expanded to find additional community resources for paying past-due rent, providing interpreters, help in passing driving tests, transportation assistance, and other essentials. We hired Mahdi Sarbaz, an Afghan arrival himself, to help meet increased demands.
Heading into the final quarter of 2022 our contract has ended, but our commitment has not. We have a roster of clients seeking assistance – and referrals keep coming, both from within immigrant communities, and from other agencies that are still overwhelmed. Daily Work's relationship-based model means we collaboratively strive to advance the work and life prospects for our job seekers. We help them initially in their employment search, and remain in partnership on a long-term journey continuing to help as emerging needs arise. We are their network. Their emotional support. Their local guides.
We wish you could meet every one of our job seekers – their resilience is inspiring!
Your donation is more critical than ever, both to ensure that Daily Work can meet its additional financial commitments, and to ensure that our newest Minnesotans can get good jobs and build thriving lives. Because of the generosity of others, for 20 years job seekers have dug deep, teaming with us to find work, grow, and enrich our community. Read just some of their stories on our Spotlights page.
Gifts are matched 2-to-1 through December 31st
That's tripled! For example, when you give $100, Daily Work receives $300!! So donate to say YES to better futures. Hit the button below to go to our secure online donation page.
---

A shout-out to our matching gift sponsors! Tom & Nancy Arata • Sally Gilchrist & Randall Ban • Margaret Hibberd • Elizabeth & John Hinck • Imogene Hoff • Les & Janet Johnson • The Justin and Susan Kelly Foundaition • George & Kathy Kolstad • Dave & Linnea Krahn • Harry & Martha Mueller • Dave & Judy Nass • Steve & Nancy Nerheim • Chris Peterson • Chuck Regal • Vern & Birgitta Rice • Mark & Alison Savin • Maryellen Skan & Peter Thiel • Marie Stodolka • Christ the King Local Mission Partner Team

---
Daily Work is registered in the state of Minnesota as a a tax-exempt, nonprofit organization, EIN 13-4336713, under section 501(c)(3) of the Internal Revenue Code. Contributions are tax-deductible to the extent allowed by law.
We are proud to be a Charities Review Council Meets Standards® organization and have earned the Guidestar Gold Seal of Transparency. Click here to read our Donor Privacy Policy.