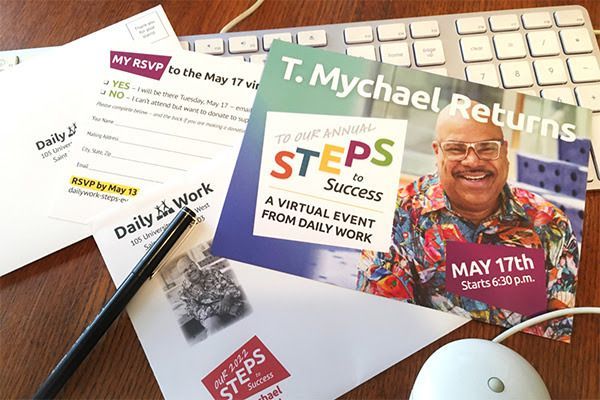 Don't miss Steps to Success
RSVP by May 13th
Register online or send the card you received in the mail! You can find more details about the May 17 Steps to Success event on our website. 
It will be a program packed with enlightening stories. Like our in-person events, the evening will have what you love most -- interesting speakers, heartfelt narratives, and meaningful connections. 
Just a Few More Highlights
Be prepared to be entertained and uplifted!
We are pleased to welcome back the lively actor, vocalist, arts educator, and community contributor T. Mychael Rambo as master of ceremonies. The Happy Half-Hour celebrates with a musical performance by former interns, violinist Maya Lehmann and cellist Teiana Nakano, both St. Olaf College grads. During the Program you'll meet more of our DW community, including Ojulu who journeyed from Ethiopia, to the Dadaab refugee camp in Kenya, to Minnesota; Ojulu also is featured in our May newsletter.
Help us make greater impact!
Watch with a friend
If each attendee brings just one guest, we can spread the important stories of job seekers in our community and increase understanding of the barriers to finding and keeping work.
Visit our social media pages to share the event on your own social media. Register now.
Thank You To Our Sponsors
We are grateful for financial support from Fredrikson & Byron, P.A., the Local Mission Partner Team at Christ the King Lutheran Church in New Brighton, and for in-kind, production support from Stagetime Productions.